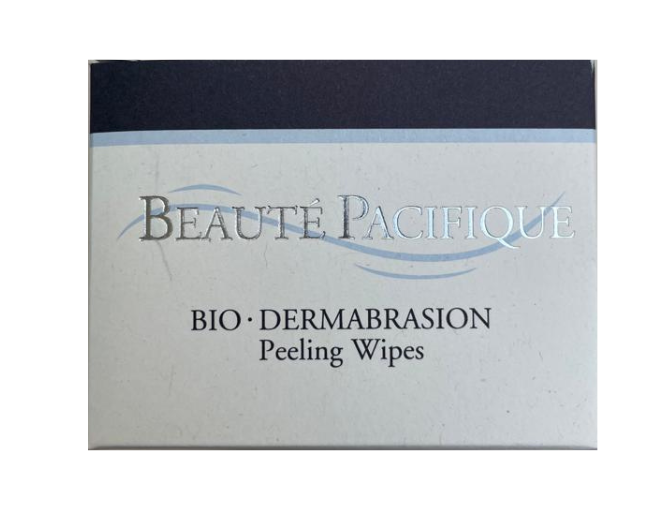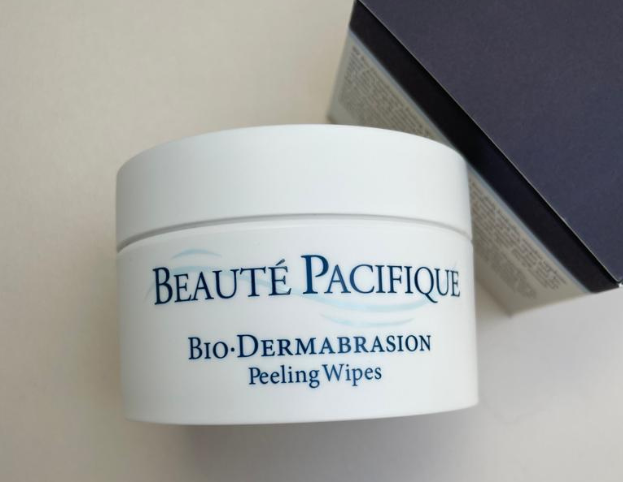 Beauté Pacifique Bio - Dermabrasion peeling wipes, 30 pcs.
Fights scars and stretch marks
Makes the skin more extensible
Reduces redness and makes the skin more robust
100% Money Back Guarantee!
Delivery within 1-3 business days!
Beauté Pacifique Bio - Dermabrasion peeling wipes, 30 pcs.
Bio-Dermabrasion Exfoliating Biodegradable Wipes quickly remove dead skin cells and gently reduce the appearance/formation of fine lines and even out complexion, leaving skin glowing, soft and fresh.

Also suitable for couperose, red and dry skin care!
Main ingredients and their benefits:
4. Niacinamide | (also known as vitamin B3) is a unique skin rejuvenating ingredient that offers several benefits for the skin. It improves the skin's barrier by promoting the skin's natural skin-strengthening ceramides. It also improves skin elasticity and reduces the appearance of lines and wrinkles. It evens out uneven skin tone and reduces skin discoloration.
5. Mandelic acid | is a mild alpha-hydroxy acid (AHA) that gently exfoliates the skin. Compared to other AHA acids, it has a larger molecular size and therefore penetrates the skin more slowly, providing a much gentler but still effective exfoliation. Mandelic acid loosens the bonds that tightly attach dead skin cells to the surface of the skin, thereby promoting the process of exfoliating dead skin cells. Where other AHAs can promote hyperpigmentation on darker skin tones, mandelic acid does not.
6. Gluconolactone is a polyhydroxy acid (PHA) that has mild exfoliating properties. Its large molecular size allows it to penetrate the skin slowly, resulting in less irritation. In addition to exfoliation, gluconolactone also strengthens the skin, as it also has moisturizing and antioxidant properties.
7.  Capryloylsalicylic acid (CSA) | is a lipohydroxy acid (LHA), meaning it is fat soluble. CSA is a derivative of salicylic acid and has the same properties as salicylic acid, but it penetrates deeper into the skin than AHAs due to its fat solubility. However, CSA works more gently than salicylic acid because it penetrates the skin more slowly, so it is suitable even for sensitive skin. CSA promotes the exfoliation of dead skin cells by loosening the bonds between cells. In addition, CSA stimulates cell renewal, resulting in a faster turnover of new skin surface cells.
8. Alpinia Speciosa Flower/Leaf/Stem Extract The Alpinia Speciosa plant is related to ginger and is native to tropical and subtropical parts of the world and is specifically harvested in Okinawa, Japan. The people of the Japanese island are especially known for their high life expectancy. Alpinia Speciosa leaf extract improves the connection between the epidermis and the dermis by regulating the production of various connective tissues in the extracellular matrix, including elastin and collagen fibers. The result is smoother skin with more radiance.
9. Caffeine is a powerful antioxidant that protects the skin against free radical damage. Due to its anti-inflammatory effect, it also helps to soothe the skin and reduce skin redness.
10. Cucumis Sativus (Cucumber) fruit extract has astringent, soothing and anti-inflammatory properties. Its cooling properties can reduce swelling and reduce itching, and help reduce redness
11. Zingiber Officinale (ginger) root extract has several beneficial properties that have a calming and preventive effect. It has analgesic, anti-inflammatory, antioxidant and antibacterial effects. Ginger extract also protects skin collagen by inhibiting collagen that would otherwise break down collagen.
12. Allantoin has a keratolytic and moisturizing effect and creates silky smooth and healthy skin. Allantoin stimulates cell renewal so that new and fresh skin cells can replace dead skin cells faster. Research shows that allantoin has a soothing effect and reduces water loss in the skin.
13. Glycyrrhiza Glabra Root Extract is an extract from licorice root. It is well-known as a wound-healing extract that helps reduce skin irritation and provides instant comfort to sensitive skin. This allows the skin to accept stronger reactive ingredients with fewer side effects, making them more effective specifically for sensitive skin.
14. Avena Sativa (oat) kernel extract has a soothing effect due to its anti-irritant and anti-itch properties. Reduces redness and itching by inhibiting the action of histamine and inflammatory neurotransmitters. The extract contains several different flavonoids and polyphenols with antioxidant properties. The main soothing ingredient in oat extract is a group of polyphenolic compounds called avenanthramides, which have been shown to be very effective at soothing the skin even at very low concentrations.
Perfekts produkts
Šīs salvetītes man ieteica pamēģināt konsultante! Un tā bija pareizā izvēle! Pērku jau trešo iepakojumu! Izcils produkts! Sejas āda paliek gluda, tīra, veselīgi mirdzoša!
Jautājums
Cik salvetes ir iepakojumā?