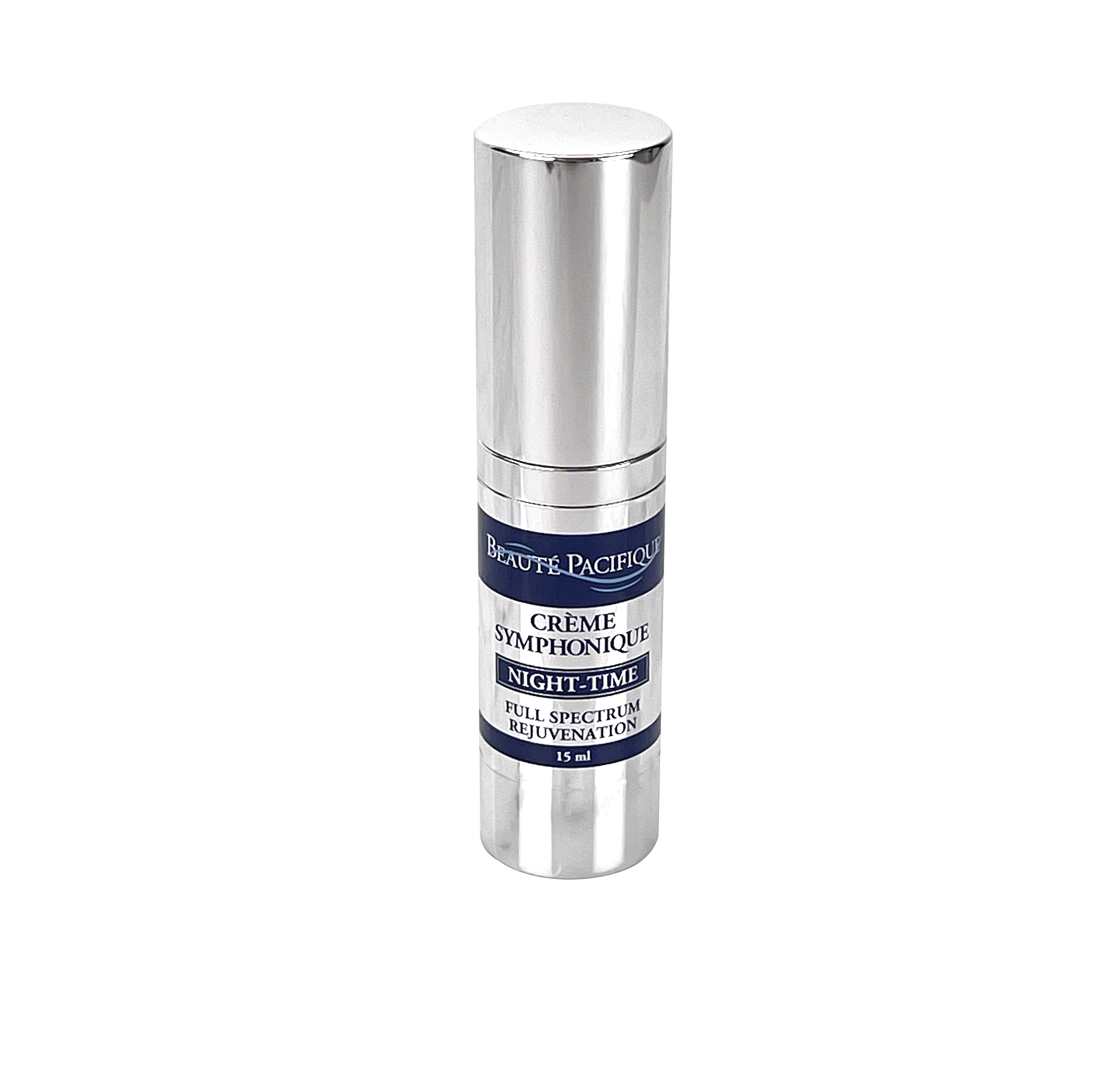 SYMPHONIQUE NIGHT CRÈME, 15ml
Developed with the latest breakthrough in dermatological anti-age research
Excellent rejuvenating and revitalizing ingredients working together to become perfect skin care
Actively working all night through - due to delayed ingredient release
100% Money Back Guarantee!
Delivery within 1-3 business days!
SYMPHONIQUE NIGHT CRÈME, 15ml
Crème Symphonique Night-Time contains six types of vitamin A, each with its own amazing benefits. Among them is Retinol, which is encapsulated in our specially designed microcapsules that are protected against oxidation and degradation.
The microcapsules of Beauté Pacifique gradually burst and disintegrate in the skin, immediately after application to the skin and later continue their activation during the night. This means you get an immediate collagen-restoring anti-aging effect, as well as a long-term effect due to vitamin A being deposited deep into the skin.
Many other ingredients work together with each of their skin-enhancing qualities, resulting in a cream that works like an orchestra and becomes a symphony, providing the best optimal care for mature skin.
Main ingredients and their benefits:
3. Squalane | is an oil that occurs naturally in human skin and is an important component of the lipid system. This oil has a very high absorption capacity. The nanometer droplets of squalane act as efficient "transporters" of vitamin A and other oil-soluble active ingredients. Young and healthy skin contains a large amount of squalane, but it rapidly decreases with age. Because of this, squalane is perfectly absorbed into sun-damaged and aged skin. Lack of squalane in the skin causes premature aging, very dry skin and loss of elasticity. Parts of the skin frequently exposed to the sun's rays, which are constantly exposed, dry and prematurely aged, such as the hands, elbows, heels, knees, etc. becomes incredibly soft and supple as soon as squalane oil is applied.
5. Argania Spinosa (Argan) Kernel Oil, Serenoa Serrulata (Saw Palmetto) Fruit Extract, Sesame Indicum (Sesame) Seed Oil Serum | regulating. A remarkable blend of natural extracts that reduce the skin's sebum production. It reduces severe problems with acne and breakouts. Rashes affected by hormonal imbalance in the skin can be treated particularly effectively. The mode of action is based on inhibiting the synthesis of testosterone, which is a hormone that regulates sebum secretion.
8. Niacinamide | specifically works in the extracellular space (the "mortar" that holds cells together). It prolongs the biological processes that control both the cohesion between cells and the processes that maintain the functions of dehydrating cells as long as possible.
16. Bakuchiol A | natural antioxidant and antiaging ingredient found in the seeds and leaves of the plant Psoralea Corylifolia, also known as Babchi. It has been proven that Bakuchiol has the ability to restore skin structure, but when used topically, the skin becomes brighter - the effect is very similar to vitamin A derivatives. This herbal ingredient has anti-wrinkle properties, improved elasticity and a smoother skin surface, with uneven skin tone visibly evened out.
17. Retinyl Palmitate | is a particularly stable form of vitamin A that we have incorporated into our creams to maintain its high potency both during storage and when applied to the skin. Encapsulated in nanometer-sized droplets of squalane, vitamin A is able to penetrate deep into the skin in sufficient quantities to stimulate the type of cells that synthesize lost collagen fiber structures, resulting in younger-looking skin. Wrinkles and fine lines are reduced and the entire skin structure is significantly restored. Thanks to our patented combination with squalane, which acts as an effective delivery system that penetrates the entire depth of the skin, vitamin A turns into a completely unique and extremely effective anti-aging action in the skin, corresponding to 10-20 years of renewal.
18. Retinyl Acetate | like Retinyl Palmitate, is an ultra-stable form of Vitamin A and has similar remarkable and effective skin rejuvenating effects that work in parallel and in the same way as Retinyl Palmitate. It allows the skin's specialized cells to repair and regenerate sun-damaged and aged skin comparable to Retinyl Palmitate.
19. Retinyl Linoleate | is a variant of Vitamin A like Retinyl Palmitate and Retinyl Acetate and therefore a particularly stable form of Vitamin A with a similar mode of action. It is also a precursor to retinoic acid—appearing autonomously by transforming the skin's internal natural biology—and a precursor to linoleic acid, which provides additional hydration through the synthesis of hyaluronic acid.
20. Hydroxypinacolone Retinoate | is another vitamin A variant that helps restore skin's thickness, elasticity and hydration for a radiant and fresh appearance. In addition to the benefits provided by Retinyl Acetate, it is known to stimulate the proliferation of skin cells; restoring the thickness of skin that has become thinner over time. These processes help fill in lines and wrinkles for a youthful appearance while protecting the skin from further wrinkling.
21. Retinol | is an ultra-potent form of vitamin A encapsulated in microcapsules with a nanostructured wall, specially designed to create a highly effective barrier that protects hyperactive retinol from oxidation and degradation even before application and remaining on the skin's surface. The capsule breaks down slowly and provides a delayed release of retinol, preventing the usual excessive irritation and redness. Starting as soon as applied to the skin, some of the capsules break, releasing retinol, while the remaining intact capsules remain in the skin's wrinkles, where they eventually break during the night, providing a long-lasting and rejuvenating effect after application.
22. Retinaldehyde | is another highly effective form of vitamin A. Like the vitamin A variants described above, it transforms the epidermis/dermis by actively stimulating collagen/elastin production, providing anti-inflammatory and antioxidant properties. It increases the thickness of the layer and makes the skin firmer, prevents UV collagen damage and makes the skin more elastic.
23. Bis (Cyano Butyl Acetate) Anthracenediylidene A | powerful anti-aging antioxidant proven to block sun-induced aging before it even starts. Compared to other antioxidants, it works more actively and efficiently – safely preventing the formation of harmful reactive oxygen species (ROS) and free radicals caused by the sun. The skin becomes more resistant to UV radiation and less prone to sun-induced signs of premature aging, such as loss of skin elasticity, fine lines and wrinkles.
25. Marrubium Vulgare Extract | stimulates the regeneration of lost collagen/elastin and restores structure in extracellular tissues. Strengthens and normalizes the elasticity of scar tissue. Reduces redness.
26. Anigozanthos Flavidus (Kangaroo Paw) Extract | is an organic flower extract that acts as an anti-aging and anti-wrinkle agent. It increases the production of dermal architectural protein (Tenascins-X) and increases the synthesis of the dermal proteins collagen and elastin. It tightens the skin by increasing fibroblasts' ability to contract and cell turnover. It restores the skin's internal structure and reduces the appearance of both wrinkles and sagging skin.
27. Crocus Sativus (Saffron) Flower Extract | also known as the wonderful yellow spice saffron - has also been used for cosmetic purposes since ancient times. It is anti-aging, prevents sun damage and has soothing properties. Its main active ingredient is crocin-I (α-crocin) (crocetin + glucoside), which has both anti-inflammatory and antioxidant effects.
28. Papain | is part of Beauté Pacifique's new advanced exfoliation system. It gently removes dead cells and helps to refresh the skin's natural glow and restore its youthful appearance. This new papain-based penetration system works quickly and intensely. When used daily, papain perfectly absorbs other active ingredients.
29. Sodium Ursolate and Sodium Oleanolate | are two very powerful ingredients with a unique ability to regenerate aged and sun damaged skin. The most remarkable scientific discoveries are restored collagen fiber structures to the same level as in new skin. It completely regenerates the treated skin, including amazing restoration of the skin's micro-topography surface.
36. Hordeum Vulgare Cera (Spent Grain Wax) | has an anti-inflammatory and soothing effect on skin that is easily irritated or red.
39. Tocopherol Acetate
40. Tocopherol