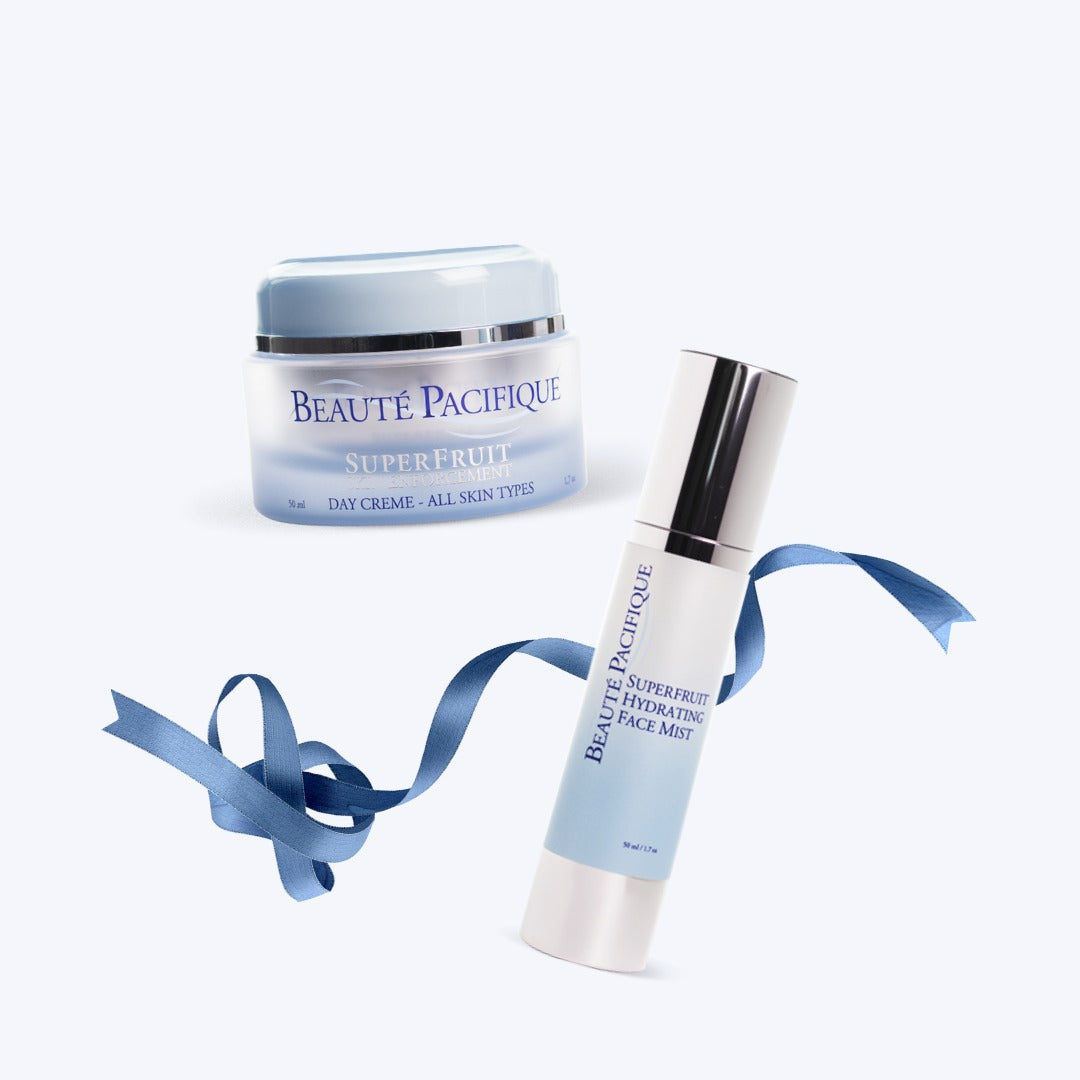 Set | young skin | Day care
100% Money Back Guarantee!
Delivery within 1-3 business days!
Super Fruit Day cream + Moisturizing mist
This set of Beauté Pacifique products is especially good for young skin. It will make the skin of young people shine both in lectures and cool parties.
If you are a young woman or a young man, you are probably just starting to think about whether you should use any creams at all, or as your friends call it - cosmetics. However, if you ask us or even a dermatologist, you will hear that skin moisturizing products are needed already in the teenage years. Dry skin is often one of the factors that cause pimples to appear on the skin.
This set of Beauté Pacifique products is suitable for everyone, whether it's a daughter or a mother - a son, a brother or a father - but if:
1. Your skin is healthy and beautiful - or

2. Your skin is a little dry - or

3. You want your skin to look healthier - or

4. Your skin deserves the best - or

5. You just HAVE skin :) and you don't know if you should use cosmetics - then
these TWO products are made for YOU!
Here is what one of the users of the SuperFruit product has to say about Super Fruit:
Laima L. writes to us: "Great, simply great product! 🤩And even though my passport data says to use a more powerful cream, I really like it: the composition, the texture, the smell, the way the skin feels after applying it, etc., etc."
Beauté Pacifique SUPER FRUIT - Day Creme All Skin Types, 50 ml
Created for young women
Beauté Pacifique Super Fruit Day Creme from the Skin Enforcement line is a moisturizing day cream that maintains and strengthens the skin's properties, keeping it youthful and healthy for as long as possible. Limits and prevents the formation of the first mimic line and pigmentation.
The cream is enriched with three SuperFruit fruit extracts obtained from lingonberry stem cells, green tea, apple leaves and also supplemented with three different additional biomimetic peptides.
Thanks to the high concentration of antioxidants provided by SUPERFRUIT fruit extracts, this cream protects skin cells, optimizes skin regeneration processes, increases skin moisture level, evens skin tone and reduces redness.
Beauté Pacifique SUPER FRUIT - Hydrating Face Mist, 50 ml
Beauté Pacifique Super Fruit Hydrating Face Mist from the Skin Enforcement line is a nourishing hydrating spray for the face and neck that needs to be used to easily restore the skin's natural defenses when it feels dry or tight.
It immediately provides a feeling of freshness and also provides an antioxidant effect thanks to its high concentration of cranberry SUPERFRUIT extracts, which protect skin cells. At the moment of spraying SUPERFRUIT, the natural protection of the skin is restored, the freshness of the fruit and the healthy appearance of the skin are obtained.
Especially suitable when the skin seems a little dry or when it needs additional moisturizing protection, for example, when staying in the sun, before / after tanning, during a flight, staying at a computer for a long time, in heated rooms, etc. A very good finishing product after applying cosmetics.