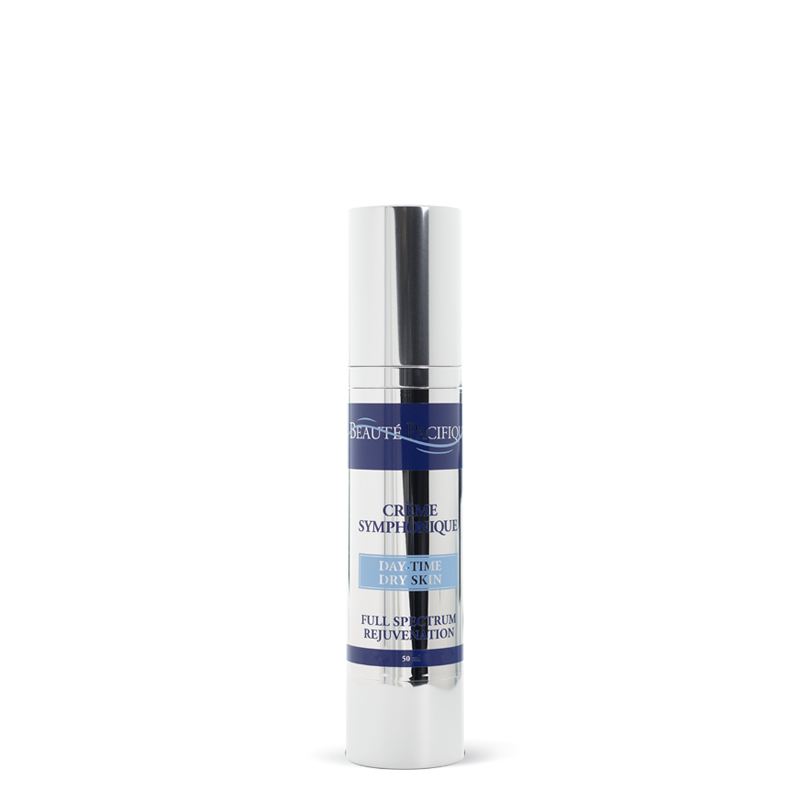 SYMPHONIQUE DAY CRÈME, DRY SKIN 45+, 50ml
Powerful skin renewal for mature and dry skin
Deep hydration throughout the day
Maximum skin antiaging effect
100% Money Back Guarantee!
Delivery within 1-3 business days!
SYMPHONIQUE DAY CRÈME, DRY SKIN 45+, 50ml
Moisturizing day cream with modern nanotechnology for dry and sensitive skin, which creates a more beautiful and healthy skin appearance shortly after application. The cream continues to penetrate deeper into the skin, where it delivers a rich palette of anti-aging ingredients. Each ingredient has its own specific long-term benefits.
This cream is specially formulated to provide comfort and soothing effects for dry and sensitive skin. The entire Beauté Pacifique Crème Symphonique line is based on the latest advances in dermatological research and formulated with the most effective ingredients. Each of these ingredients has a strong rejuvenating and revitalizing effect, combined in our Symphony, creates the best and most effective skin care possible.
Main ingredients and their benefits:
2. Squalane | is an oil that occurs naturally in human skin and is an important component of the lipid system. This oil has a very high absorption capacity. The nanometer droplets of squalane act as efficient "transporters" of vitamin A and other oil-soluble active ingredients. Young and healthy skin contains a large amount of squalane, but it rapidly decreases with age. Because of this, squalane is perfectly absorbed into sun-damaged and aged skin. Lack of squalane in the skin causes premature aging, very dry skin and loss of elasticity. Parts of the skin frequently exposed to the sun's rays, which are constantly exposed, dry and prematurely aged, such as the hands, elbows, heels, knees, etc. becomes incredibly soft and supple as soon as squalane oil is applied.
4. Bis-Diglyceryl Polyacyladipate-2 | multi-functional ingredient based on palm. It has a high water binding capacity of 200%, is an excellent film former and helps to improve the skin barrier by reducing transepidermal water loss. Its properties are comparable to lanolin and gives a pleasantly soft and silky touch.
6. Niacinamide | specifically works in the extracellular space (the "mortar" that holds cells together). It prolongs the biological processes that control both the cohesion between cells and the processes that maintain the functions of dehydrating cells as long as possible.
14. Beta Vulgaris (Beet) Root Extract | from sugar beet. Improves natural moisture binders in the skin and provides additional moisture - both immediately and in the long term.
16. Sodium PCA | acts as a highly effective humectant with the ability to increase moisture levels in the skin and maintain moisture for several hours.
19. Bakuchiol A | natural antioxidant and antiaging ingredient found in the seeds and leaves of the plant Psoralea Corylifolia, also known as Babchi. It has been proven that Bakuchiol has the ability to restore skin structure, but when used topically, the skin becomes brighter - the effect is very similar to vitamin A derivatives. This herbal ingredient has anti-wrinkle properties, improved elasticity and a smoother skin surface, with uneven skin tone visibly evened out.
20. Bis(Cyano Butylacetate) Anthracenediylidene | A powerful anti-aging antioxidant proven to block sun-induced aging before it even starts. Compared to other antioxidants, it works more actively and efficiently – safely preventing the formation of harmful reactive oxygen species (ROS) and free radicals caused by the sun. The skin becomes more resistant to UV radiation and less prone to sun-induced signs of premature aging, such as loss of skin elasticity, fine lines and wrinkles.
21. Glycyrrhiza Glabra (Licorice) Root Extract | extract from licorice root. It is well known as a wound healing extract that helps reduce skin irritation and provides instant comfort to sensitive skin. This allows the skin to accept powerfully reactive ingredients with fewer side effects, allowing sensitive skin to absorb more effective ingredients.
22. Anigozanthos Flavidus (Kangaroo Paw) Extract | is an organic flower extract that acts as an anti-aging and anti-wrinkle agent. It increases the production of dermal architectural protein (Tenascins-X) and increases the synthesis of the dermal proteins collagen and elastin. It tightens the skin by increasing fibroblasts' ability to contract and cell turnover. It restores the skin's internal structure and reduces the appearance of both wrinkles and sagging skin.
23. Hydroxypinacolone Retinoate | is another vitamin A variant that helps restore skin's thickness, elasticity and hydration for a radiant and fresh appearance. In addition to the benefits provided by Retinyl Acetate, it is known to stimulate the proliferation of skin cells; restoring the thickness of skin that has become thinner over time. These processes help fill in lines and wrinkles for a youthful appearance while protecting the skin from further wrinkling.
24. Crocus Sativus (Saffron) Flower Extract | also known as the wonderful spice saffron, which has also been used for cosmetic purposes since ancient times. It has anti-aging effects, prevents sun damage and has soothing properties. Its main active ingredient is crocin-I (α-crocin) (crocetin + glycoside), which has both anti-inflammatory and antioxidant effects.
28. Tocopherol Acetate | A form of vitamin E that plays an important role in protecting both skin and products from the harmful effects of free radicals.
29. Tocopherol | is another source of vitamin E that plays an important role in protecting both skin and products from the damaging effects of free radicals, and it acts as a natural moisturizer and can reduce fine lines and wrinkles.
Labs krēms pēc tekstūras un sajūtām uz ādas. Par iedarbību varēšu spriest pēc ilgāka lietošanas laika.
Mitrinošs efekts
Vasarā vēlējos dienas krēmu ar izteikti mitrinošu efektu. Šis krēms sniedz tieši to, ko vēlējos. Tam piemīt zīdaina tekstūra un neuzbāzīgs aromāts, kas man ir būtiski.